About
Fishing
Miles of shallow weedy bays provide a great haven for the Giant Northern Pike that roam the waters that we fish. Many of our returning guests release numerous fish in the 40″+ & 20 pound class each year; recent lake records exceed 34 pounds! Large gradual rock shoals, depths of 150 feet, and rocky underwater shelves provide the angler with miles upon miles of excellent Lake Trout territory. Through the years the Lake Trout have earned a trophy status among our guests. Trout average 3 to 8 pounds with many 15 to 20 pound fish landed, and the current lake record of 35 pounds.
We offer exciting trips to 3 remote destinations in Alberta and the Northwest Territories.
Andrew Lake and South Leland Lake on the Alberta side. Lynx Lake in the NWT.
2 Night / 3 Day packages with cabins, boats and flights start at $1095, see " Lakes & Rates" section below for all rates.
Many guests return year after year to take in the action!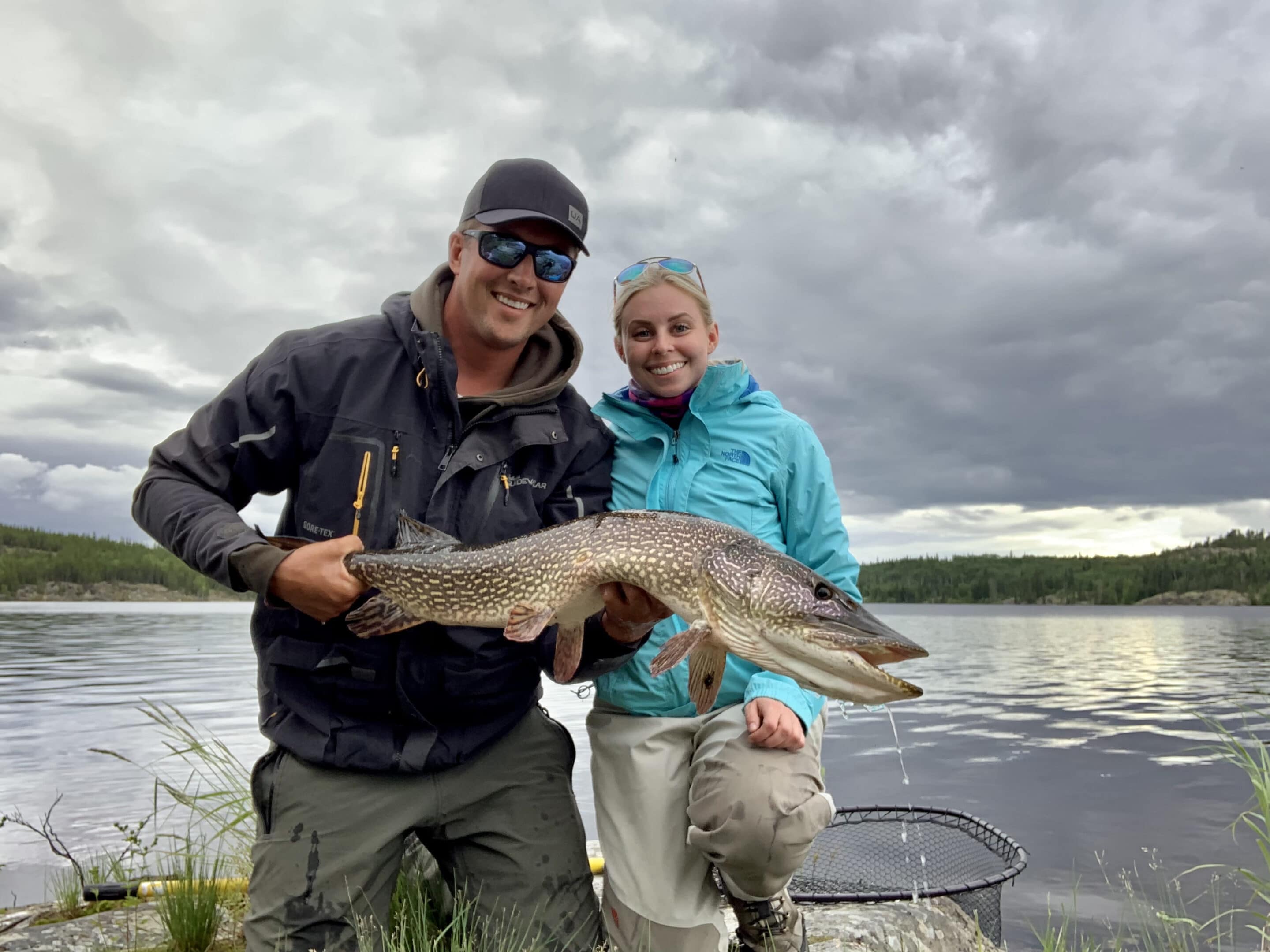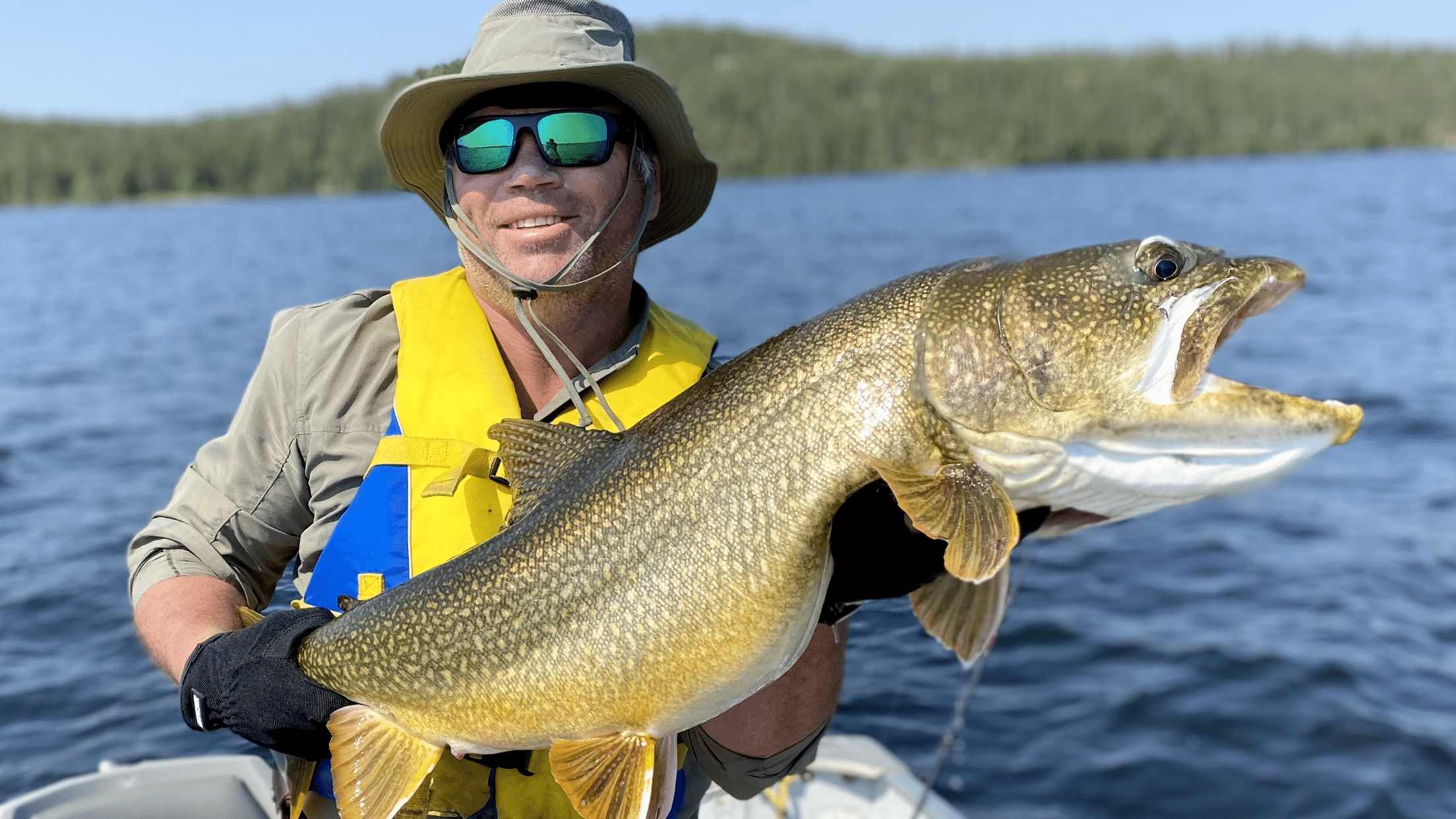 All lakes are fly in only and we are the only lodge on the lake. No commercial fishing or netting and Andrew Lake carries a trophy designation by the Alberta government. We encourage catch and release, with some smaller fish being kept for shore lunches or to take home.
The season runs from May 23 – September 30. Tremendous amount of daylight; end of June 22+ hours!
The most significant cost in the trips are the airline and air charter flights. The further you drive the shorter the flights and the more you might save.
We have options for our departure points with flights available from;
Fort Smith, Fort McMurray or Edmonton
We also offer flights from Yellowknife for our Lynx Tundra Lodge location on Lynx lake.
Depending on where you live and how much driving and flying you want do, there is an option that's best for you.
Different water temperatures change techniques and fishing locations .
During this open water period we have not noticed one time period better than the next when seeking that trophy Northern Pike.
For example, we had a 24 pounder caught on May 30, a 21 pound fish on June 16, a 35 pound monster on Canada Day – July 1, and 28 pound fish on September 20, over one season, just to list a few.
Lake Trout are a migratory fish coming into the shallows (5 to 15 feet) each spring and fall and living in the depths during the summer months. Lake Trout remain in the shallows until early July each year only to return in early September. Specific fishing techniques are therefore tailored to the location of trout at any given time. Those of you who can handle the cool weather of September will come to find out that for real trophy fishing, the fall may indeed be the best of the best.
We at Andrew Lake are aware of the qualities required to provide you a 'world class' fishing vacation. That's why after you've joined us once, you'll be back time and time again.
See "What our guests are saying" at bottom of page.
Never miss a moment with unlimited fuel and boat usage. We also provide life jackets, boat seats and fish nets and no extra charge. Bring your Fish finders and down riggers or rent ours for $15/day. We provide 14 ft Lund & Alumarine Boats with 9.9HP Honda & Yamaha motors with staff to assist you at Andrew Lake. At our outpost camp on South Leland lake, you run your own camp.  We do fly in camp checks and have satellite phone if you ever run into any issues and we'd be glad to help!
Spring (mid May to July)
Lake Trout like cold water and are still on the surface as the ice leaves in May. As the summer progresses the water warms up and these fish migrate to the deeper holes of the lake.
Walleye spawn in early to mid June and gather at river mouths and incoming creeks. Large females can be taken at this time providing great action.
Northern Pike – Can be caught in shallow bays, off narrows and points. Many Pike can be caught in these regions, however most are of smaller – medium size. Larger pike can be caught trolling or casting just off edges of the bays in 10-20 feet of water. Andrew Lake's "Jackfish Alley" offers excellent fishing through this river out flow as it spans nearly 20 kilometers.
Summer (July & August)
Lake Trout – Have moved into the deeper colder water,  holes 80 -150 feet deep. Most of the ideal water temperature is found 60-90 feet. Trolling with regular spinning gear and down riggers, or using heavier trolling rods and pink ladies or deep sixes works well. Vertical Jigging can also be employed as these fish can be targeted from above with a bottom-up strategy.
Walleye – Move out to deeper bays and can be caught slow trolling and jigging. Walleye are active with good numbers of fish and large trophies can be caught throughout the mid-summer.
Fall (September)
The lake thermalcline has changed as the lake "flips" – colder water now found on top. It actually gets "dark" by 7:00pm, and this allows for some spectacular northern light shows as the aurora's presence is felt on clear nights.
Northern Pike – can be found in similar regions as the mid summer. Numbers of fish caught can be less than spring and summer, but still many 40″/25+lb trophies can be found.
Lake Trout – Now move up to the surface with the cold water and head towards spawning grounds – gravel bars, rocky and cobblestone bays. The lakers are hungry at this time, but also very aggressive as they defend their spawning grounds and chew up pike that try to invade their turf. Peak spawn occurs around mid September.
Walleye – Activity drops off as many of these fish are suspended in deeper water. Successful anglers target submerged islands and "humps" and jig up nice "eyes."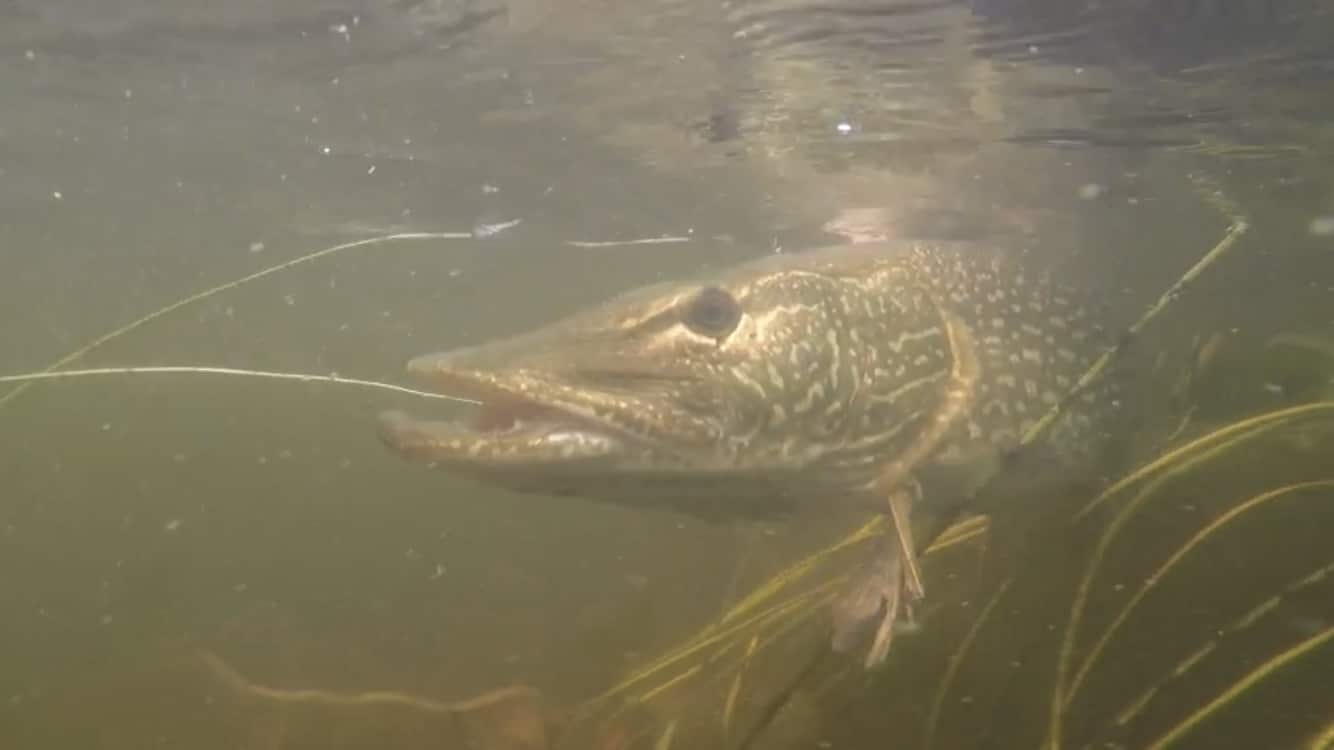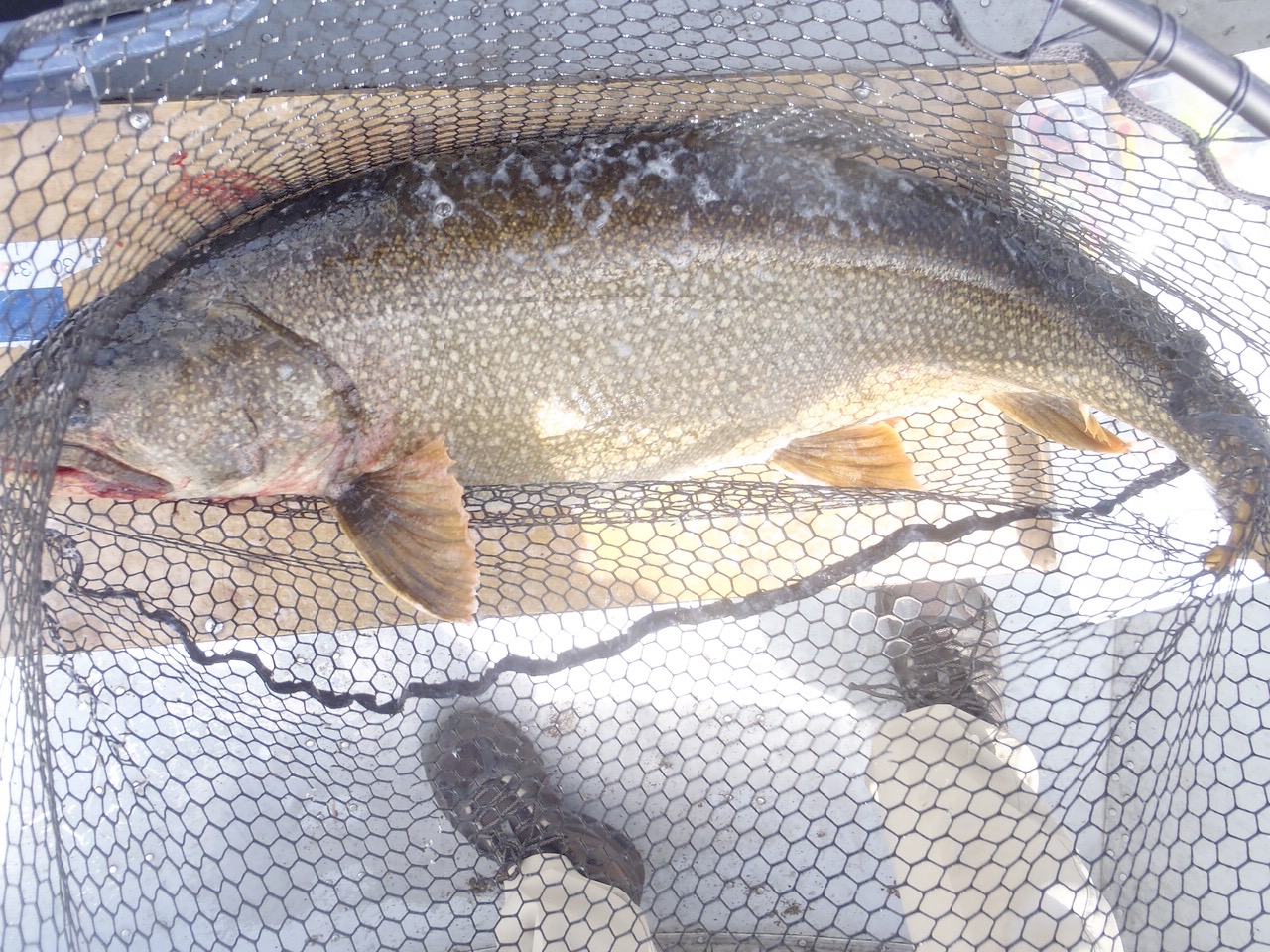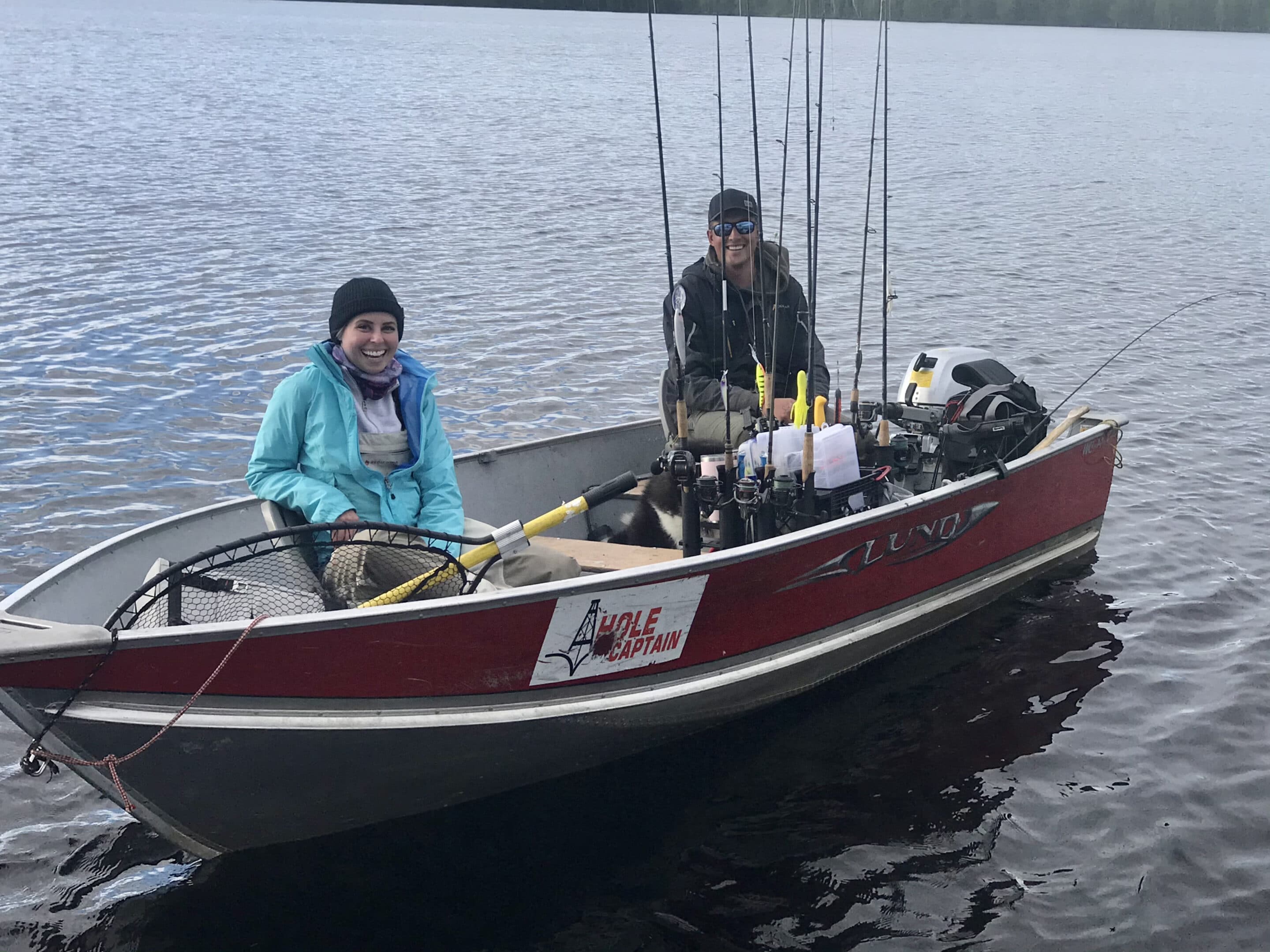 Lake Trout & Northern Pike
light to medium light with 6 pound

 

– 10 pound test.

fishing & spinning gear
Medium to medium heavy rods
12 – 20 pound test line
12 inch steel leaders
Large spoons (4-7 inch), including number 4 size Len Thompson,
Lucky strike, large Daredevil
A mix of colors from black and white We use bright colors on sunny days and dull colors on overcast days.
Crank baits work well Rapala and Canadian wigglers are great.
Single body and jointed are good, size medium to large.
Top Water lures and buzz baits work well for Northern Pike; check out Mepps and Pixie spinners
Tube Jigs and Bondi baits for deep jigging in the summer for Lake trout.
Walleye
An assortment of jigs work well all colors from white to black are good depending on conditions.

Berkely power grub, Mr. twister, Mepps. White/Black/Yellow

some smaller spoons and crank baits will work as well
Jaw spreaders and long needle-nose pliers or hook out removing tools

Fillet knife with sharpening stone, 
Arctic Grayling
light gear, flies and small spinners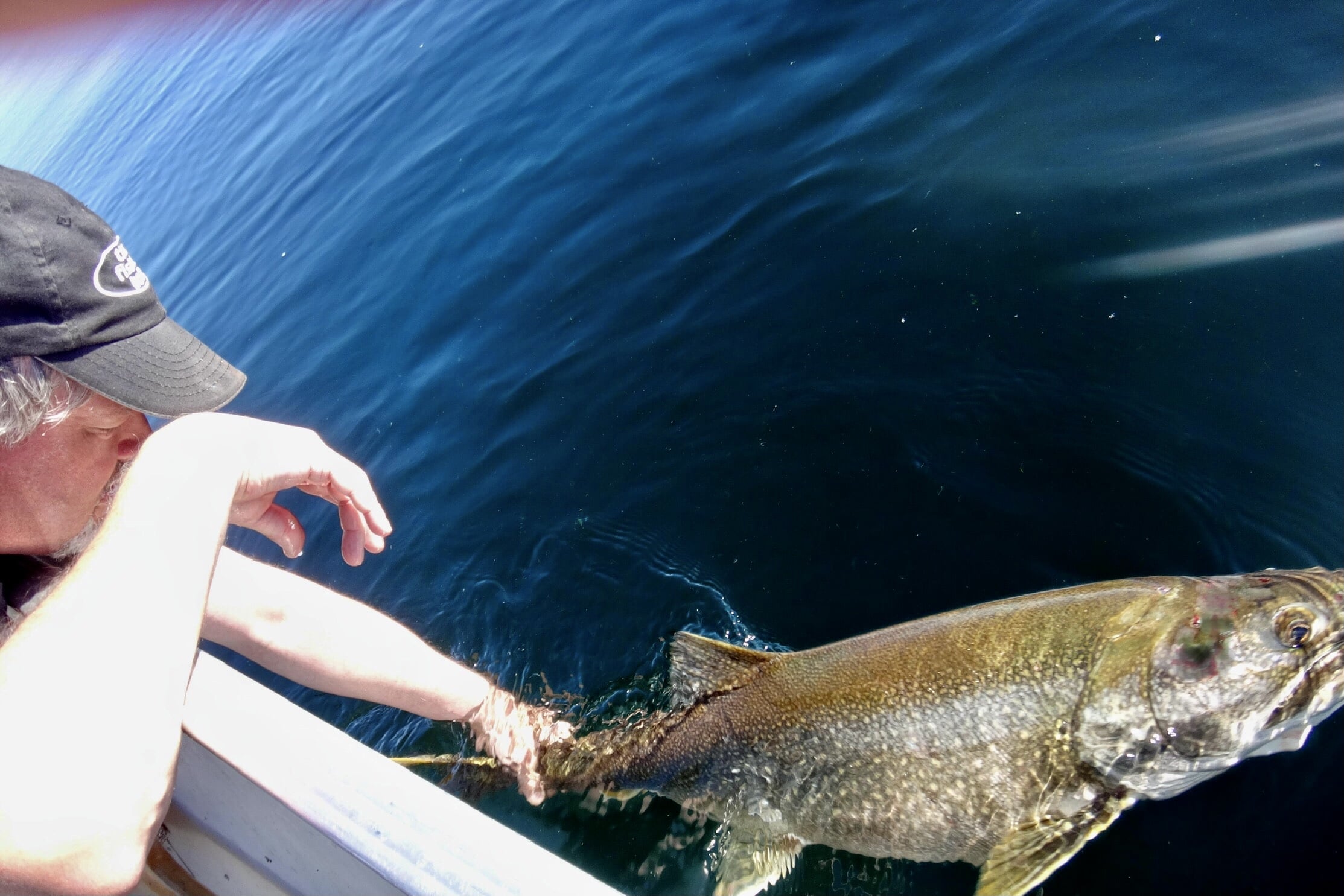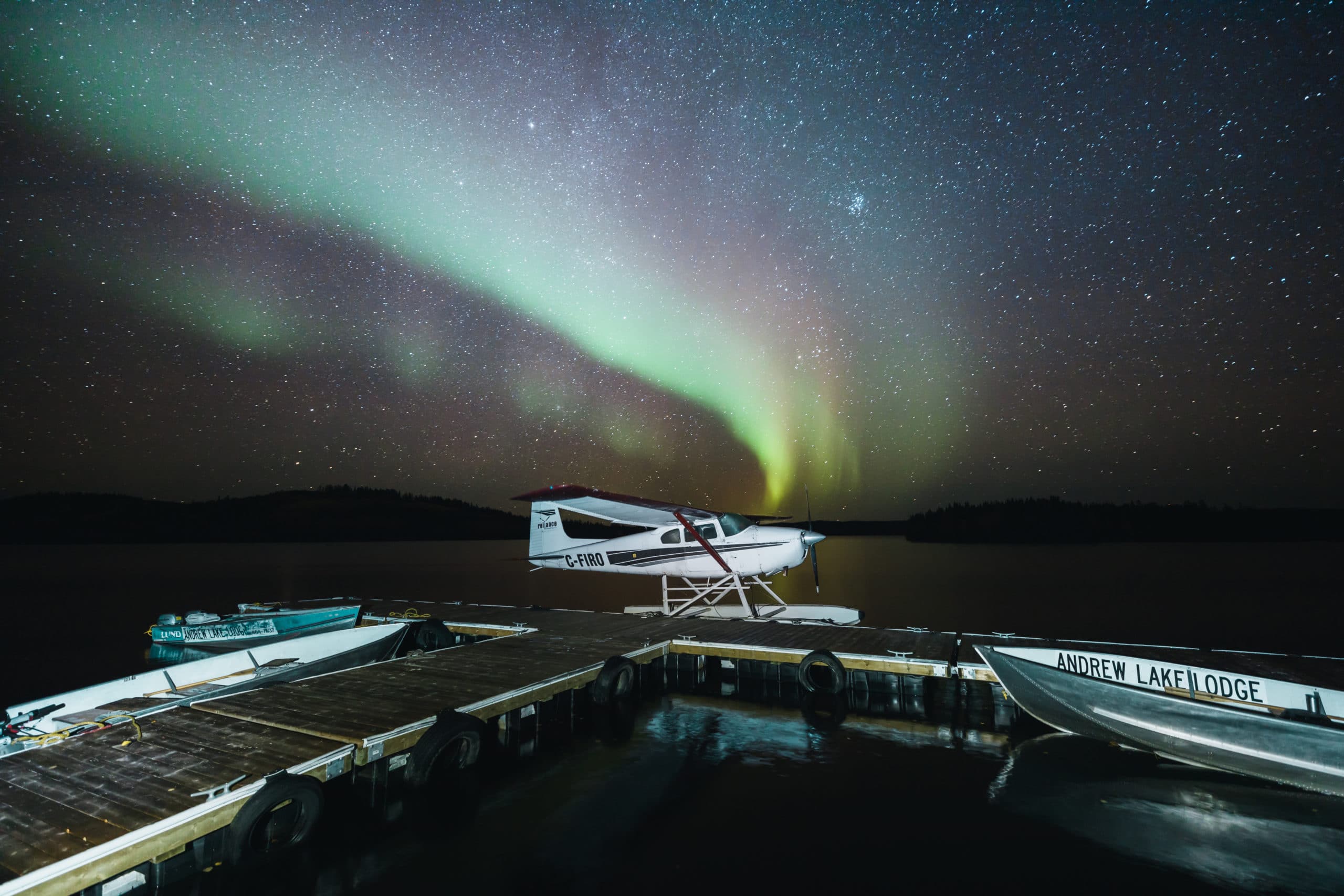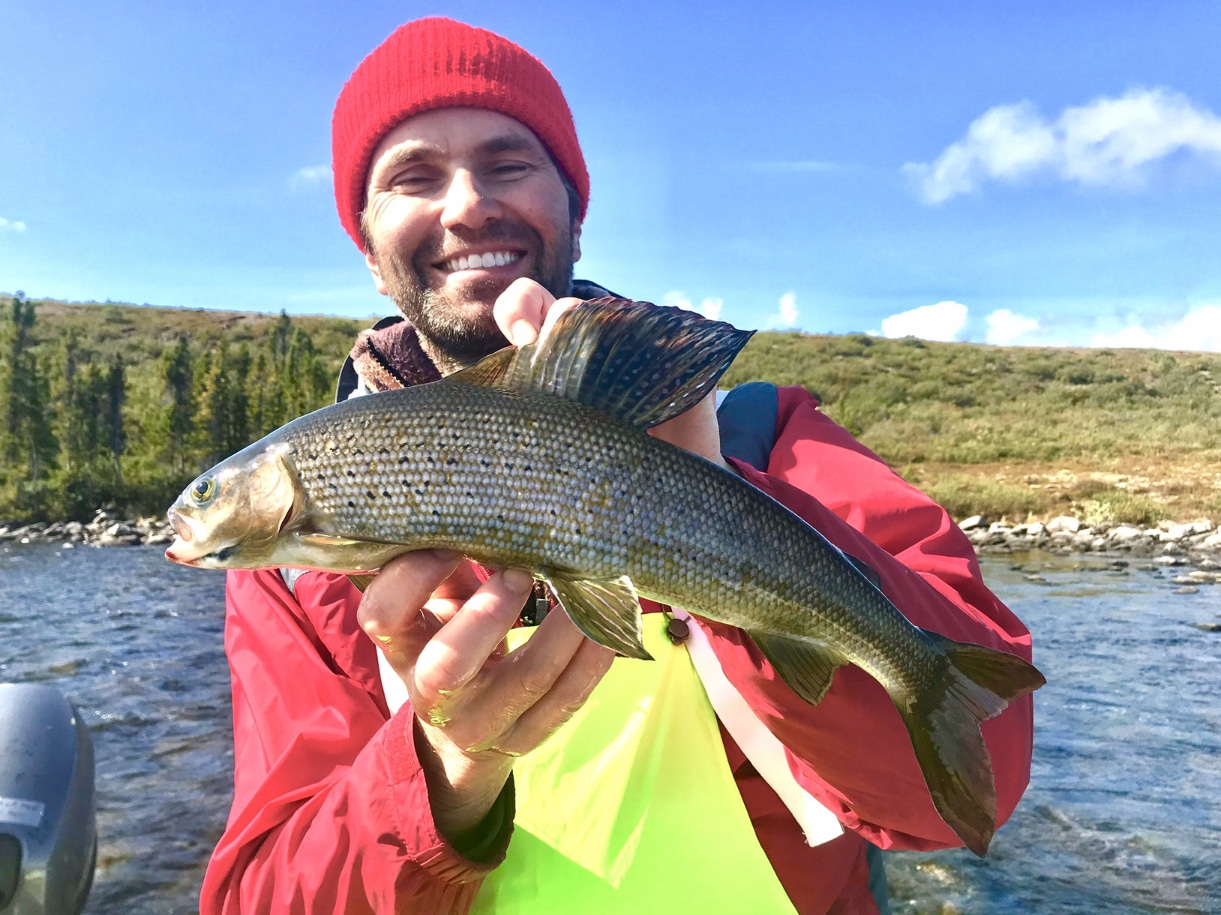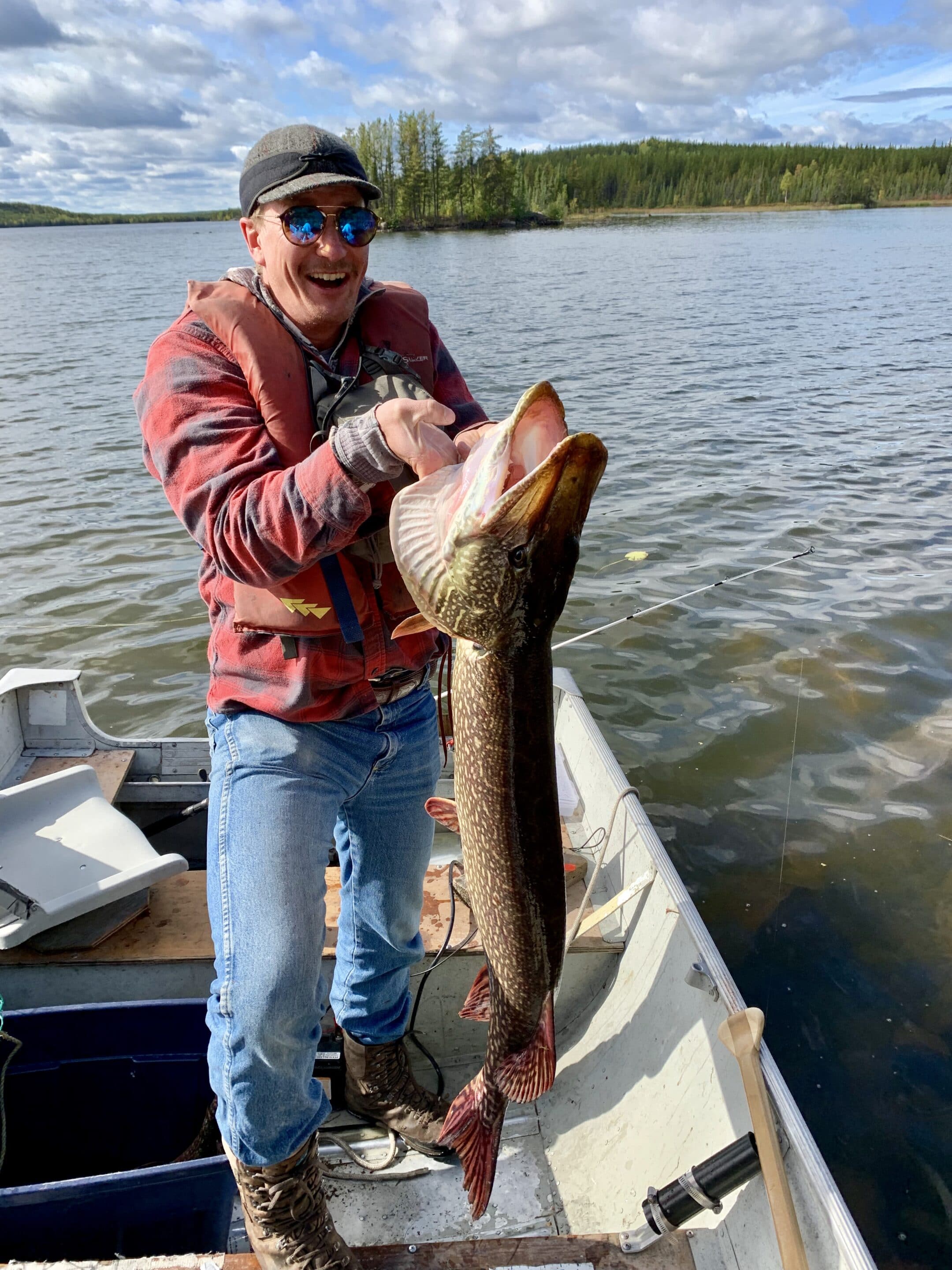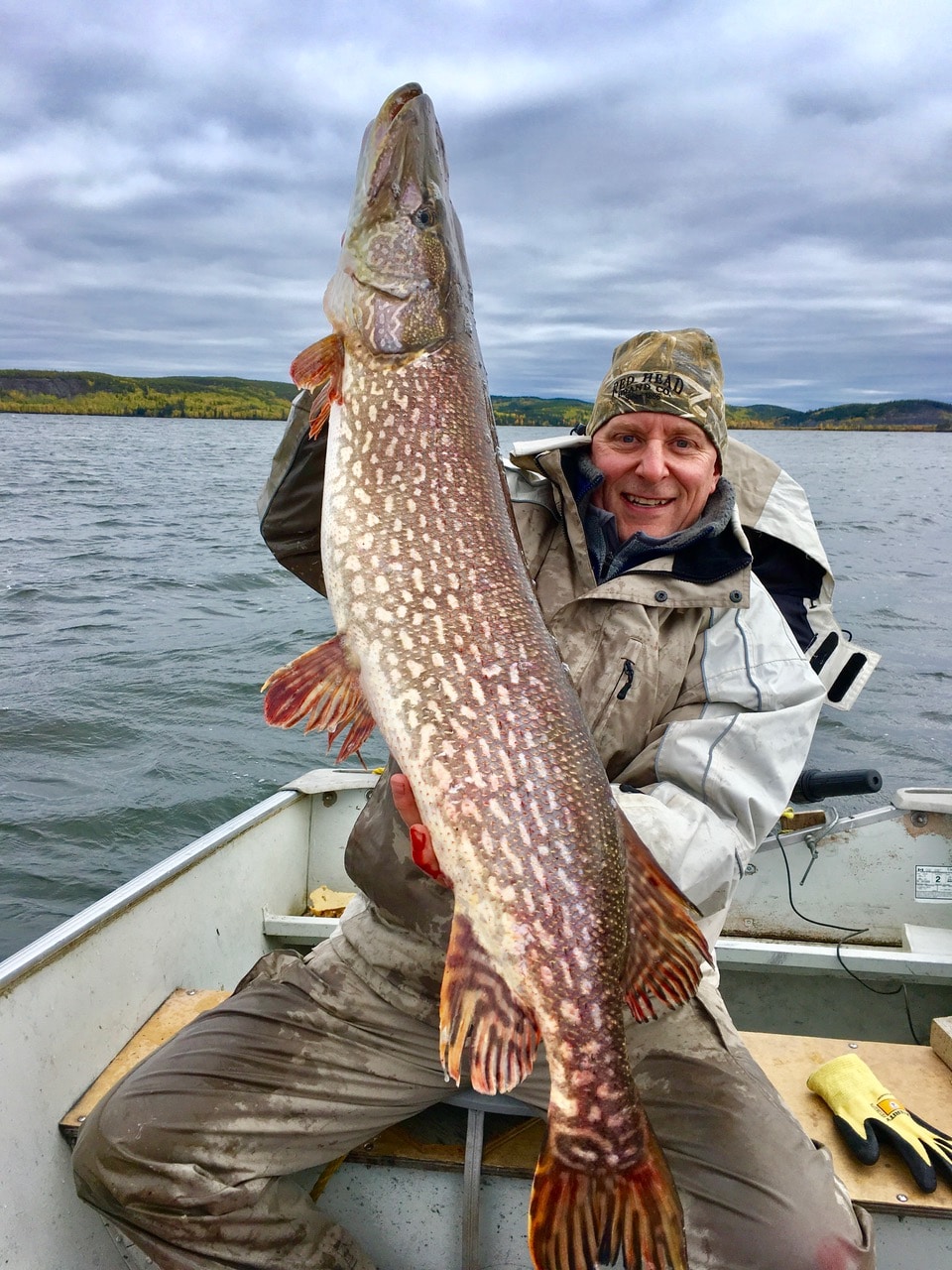 ABOUT
LAKES & RATES
We offer a selection of lakes and rate packages to suit your needs
Andrew Lake
Packages with flights from Fort Smith start at $1395. Private guest cabins with kitchens to cook, fish & explore on your own schedule.  Main lodge with option for meals provided, lodge staff ready to host your special group event!
Lake Trout, Northern Pike, Whitefish
South Leland Lake
Packages with flights from Fort Smith start at $1095. The Outpost Camp! Exclusive camp bookings with all 3 cabins at South Leland with groups of 6 or more.
Northern Pike, Walleye, Lake Trout, Whitefish
Drop-In Tent Camps
Choose from any of the 100's of lakes in the area to set up your own fly-in camp! Bring your own Tent & boat or rent our equipment.
Northern Pike, Walleye, Lake Trout
Lynx Tundra Lodge
Where the forest and the tundra meet. Adventure  on the edge of NWT tree line. Incredible Fishing, landscapes and wildlife! Hike on an esker, Meet the Muskox & Caribou, witness Aurora!
Lake Trout, Arctic Grayling, Northern Pike
Come on up and make your cast!
What lakes are best for fishing? Best for each species?
All the lakes can offer great fishing, different times of the season changes water temperatures and techniques.
South Leland Lake - Our best lake for variety of species with lake trout, pike and walleye. A favourite for our walleye anglers and lots of pike, with several trophy class 40"+ & 20+ pound landed. Lake trout can average 3 - 5 pounds, with some teens and occasionally larger.
Andrew Lake  - is a bigger and deeper lake and more conducive for lake trout.  Average size for both trout and pike about 3 to 8 pounds and has the edge on top trophy calibre for 20 - 30+ pound. For the walleye die hards fishing at Andrew, they may be able to book a day trip fly out to Leland.
Lynx Lake - has unique location on the barren lands and on the edge of the tree line.  Our largest lake with great lake trout fishing wth many trophy class landed and spectacular arctic grayling action in the rivers. Few pike in this colder water, however the average size is very impressive.
When does the ice come off the lakes?
The spring ice out can vary each year. It can depend on the severity of the winter and how much and when first major snowfalls were. An early accumulation of snow on ice can provide insulation and the ice may not  build as thick as years with no early and little snow fall.
South Leland - Our first lake to break up. Usually May 9 - 16.  The mouth of the incoming river by the camp opens early and any strong northwest winds will clear out ice quickly.  We open as early as May long weekend and run until early October.
Andrew Lake  - is a bigger and deeper lake and the ice goes on later and comes off later.  Usually around May 15 - 22.  The south end where the lodge is shallower and opens up a few days earlier, than the deeper and wider north end.  First guests arrive last week of May and we operate until early October.
Lynx Lake - has unique location on the barren lands and on the edge of the tree line.  Our largest lake and last to open up.  Ice can remain on the lake until early July.  When it starts to go, it can melt rapidly with near 24 hour daylight and warm air. Normally ice breaks up at lodge around June 18 - 25.  The bigger parts of the lake can take a week later.  The season at Lynx is short and intense as we wrap up in September before winter's return.
When is the best to time come?
It's a matter a preference for fish species and techniques. Weather is also cooler very early and later into the season. The Summer season can be very warm. Our most popular time is ice out end of May until early July.  Lynx Lake opens in July and the season is short and changes quickly by September. At Andrew Lake September for lake trout fishing during the spawn is also popular. Check our Fishing season section for details on dates and techniques.
Can I keep any fish?
Yes, there are possession limits of 3 fish of each species. We encourage catch and release and returning the larger fish.  Smaller to mid sized are better for eating and you should have some fresh fish for meals during your stay. If you'd like to take any home, we have freezing facilities.
How do I get a fishing license and WIN card?
What type of fish can I catch?
South Leland Lake - Lake Trout, Northern Pike, Walleye, Whitefish
Andrew Lake - Lake Trout, Northern Pike, Whitefish
Lynx Lake - Lake Trout, Northern Pike, Arctic Grayling
What do I do with fish cleanings?
From cleaning tables take pails of cleanings by boat to island across from camp.
Which lakes have staff at the camps?
South Leland Lake - No staff based at the lake, we fly in for camp checks, satellite telephone for any camp questions or emergencies
Andrew Lake & Lynx Lake - Staff there to assits you for any details.  They will run the camp, generators and water systems. Satellite phone and Satellite wifi internet. (Andrew Lake)
South Leland Outpost - When do we use the generator?
For any electricity needs you can use the Honda generator.  It can also run for extended periods for freezers and refrigeration.  When filled with fuel it can run up to 12 hours.  There is also a spare back up generator in shed.  The hot water tank runs on propane and the water system is gravity fed and does not require electricity.
South Leland Outpost - How does the Water system work?
A gas Honda water pump is used to fill up our water tank on the water tower. It holds 400 gallons and can run a camp for several days, depending on demand water and showers etc. The water system is gravity fed and does not require electricity.
South Leland Outpost - Are there a few basic tools and any spare boat parts should we need them – ie propeller, pull cords, etc?
YES, we have tools, engine manuals, spare props, pull chords, extra engine oil, There are extra boats & motors.  Any normal wear and tear is expected, however damaged unusable props, gears or lower units will be charged for.
Any problem with a motor that isn't resolved quickly, please call on Satellite phone to let us know and use one of the spare motors. This way on our camp check fly in we will be prepared to fix it.  We also need to know the status of equipment when groups change out.
For more information check out our FAQ page
Bookings and arrangements can be made through this form
Thank you for your interest in booking with us. Please complete this form to request your booking. Once we receive your e-mail, we will check availability, and will send you a confirmation e-mail with payment instructions. The trip is confirmed once payment has been received, and a booking confirmation has been e-mailed to you.